« Automating Handbrake | Main | Surgery scheduled »
By Derek | June 4, 2018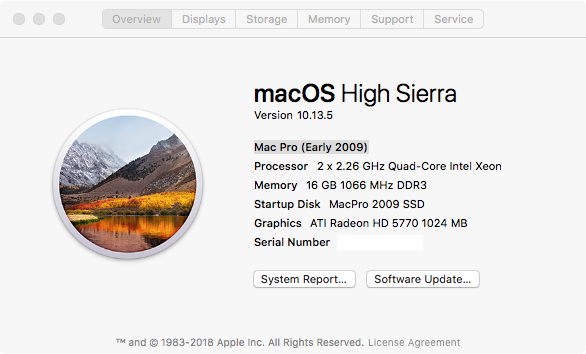 I upgraded my 2009 Mac Pro to High Sierra today. What's that, you say? High Sierra only supports 2010 and up Mac Pros? Hah. The Internet delivers.
I wish I had found this sooner.
It took about 3.5 hours, but here's what I did:
I removed all existing HDDs from my system, and installed Mavericks (10.9) on a fresh drive, as El Capitan (10.11) cannot run the third-party firmware tool. Note that to get Mavericks installed, you need to set the date on your machine, from terminal, before you start the install:
https://apple.stackexchange.com/questions/116003/this-copy-of-the-install-osx-mavericks-error-message-via-usb-boot
I upgraded my MacPro using the firmware tool. One thing you have to do it download and open the Apple 5.1 firmware .dmg file before running the third-party tool. If you don't do this, you'll get an error message. After you run the tool, follow the directions, which include powering down your Mac, and holding the power button down when you turn it back on, until the power light starts flashing. Wait for the firmware upgrade to complete.
Once that completed, my firmware in System Report now showed "MP51.0087.B00" with my Model Identifier being "MacPro5,1". Note that About This Mac _still_ showed "Mac Pro (Early 2009)" however. That doesn't seem to affect the functionality.
I then went to the App Store, and upgraded my fresh install of Mavericks to High Sierra, as a test. The install of High Sierra wanted another firmware update before it would start, so I followed the firmware instructions again.
Once the High Sierra update completed, I powered down my Mac, popped out the freshly installed drive, and popped my original HDDs back in.
I booted to my main El Capitan installation, and performed the High Sierra upgrade, which went flawlessly.
With that done, I went ahead and created a USB Install drive for High Sierra:
https://www.macworld.com/article/3204672/macs/how-to-create-a-bootable-macos-high-sierra-installer-drive.html
I'm super happy with the results!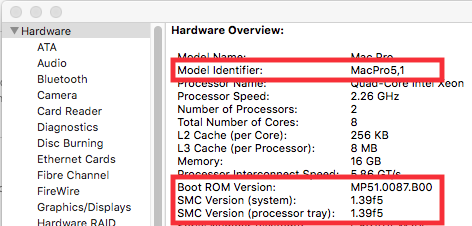 Resources:
(Visited 121 times, 1 visits today)
Topics: Apple, Me, Photos, Technology | No Comments »
Comments
You must be logged in to post a comment.