« Health, Work, Rations, Eggs, Movie | Main | Dr, Work, WRFQ803, Duolingo, Mac »
By Derek | April 15, 2020
Tax Day. (15th) Except it isn't. The IRS has moved tax day to July 15th, to compensate for this lockdown.
Regular work day for me, but I didn't feel good this morning, so I slept in a bit. When I did wake up, I had a headache, and ended up having to take some Tylenol to compensate.
I think I haven't been drinking enough water the last couple of days, so I'm drinking a ton today to make up for it.
Jill went to pick up food for us today, she tried Tokyo Express, but they were closed. She grabbed us some chicken strips from Popeye's. When she got there, there were a couple of cars in front of her, but by the time she left, the line was all the way out to the street behind her. I guess that's normal if lots of other stuff is closed down.
We all got red beans and rice as our sides, despite the fact that Jill asked for fries for our younger son. They must have felt pretty frazzled in there, 'cause they normally don't mess up orders like that. It was ok, since our younger son like the red beans and rice ok, they're just not his favorite. He ate them.
Watched a little bit of Agent of Shield season 5. I'm interested to find out the explanation behind where they get transported to.
While we were out (maybe not today, maybe it was yesterday), we saw a somewhat confusing highway sign.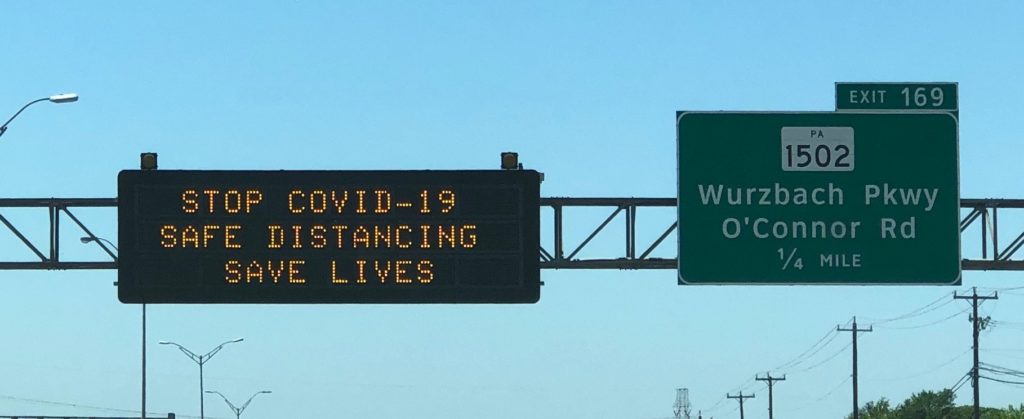 I think it's supposed to say:
STOP COVID-19
SAFE DISTANCING SAVE(S) LIVES
… but I totally read it as:
STOP COVID-19 SAFE DISTANCING
SAVE LIVES
Not sure about y'all, but I always practice SAFE DISTANCING when I'm driving. Maybe I'm just a little twisted by this whole thing.
We had to loop around the next exit to get a good picture of the sign. Jill did a great job capturing it.
We took our older son to work this evening, then we came home and I got my exercise done. Hung out a little bit, then went to pick up the boy and take him home before bed.
(Visited 23 times, 1 visits today)
Topics: Auto, Entertainment, Family, Health, Me, Photos, TV, Work | No Comments »
Comments
You must be logged in to post a comment.